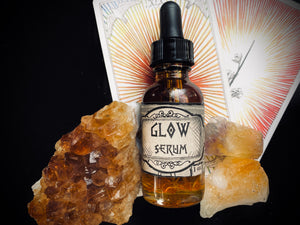 Glow // serum
Regular price $17.00 Sale
[wild carrot + calendula serum]
Abundant in nutrients, vitamins, and anti-oxidants, this hydrating blend of healing plant oils and locally wild crafted herbs help to balance and nourish your skin.
Formulated with the highest quality oils chosen specifically for their beneficial properties to all skin types, this oil is non-comedogenic (will not clog pores), and makes skin feel refreshed, soft and supple.

Massage gently into face, neck and chest. Store in a cool, dry place.
ORGANIC//WILD: ●Calendula officinalis (calendula) flower ●Daucus carott (wild carrot) flower ●Hypericum perforatum (St.John's Wort) flower ●Chamaenerion (fireweed) flower + leaf ●Lavandula (lavendar) flower ●Populus balsamifera (balsam poplar) ●Argon oil ●Sweet almond oil ●Jojoba oil ●Avocado oil ●Apricot kernal oil ●Vit E.
1 oz. reusable/recyclable glass bottle with dropper
🌿♡🌿