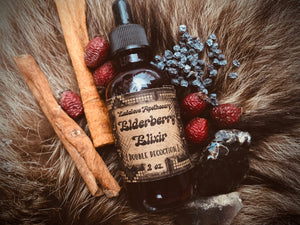 Elderberry // elixir
Regular price $0.00 $15.00 Sale
A delicious, anti-oxidant rich formula for immune system support. This Immune Elixir combines powerful anti-microbial, fever reducing, and immune supportive herbs to fight colds and flus while supporting and nourishing the body. She is essential during these transitional months as we need physical and energetic support to clear the old, and welcome new energies.
Toss one in your purse or backpack, and take your immune-boosting powers on the go! There is NO refrigeration required, as it is shelf stable. 
ORGANIC//WILD: ●Sambucus nigra (black elder) berries ●Sambucus caerulea (blue elder) berries ●(wild-harvested)turkey tail/reishi/chaga mushrooms ●wild ginger ●brandy ●orange ●cinnamon ●clove ●raw, local honey ●pure spring water

Directions: take 1-2 droppers full directly under tongue or add a few drops into some water/tea for prevention and immune system support. Double decoction tincture, extracted with both water and alcohol.
*Cautions and Warnings:
If you are pregnant or breastfeeding, consult a health care practitioner prior to use.
2 oz. reusable/recyclable glass bottle with dropper
🌿♡🌿