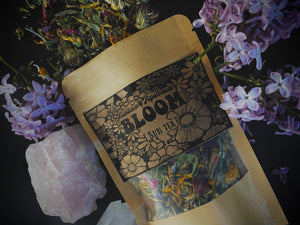 Bloom // sun tea
Regular price $0.00 $7.00 Sale
Summer is the season of fire which means our bodies are more likely to overheat with emotions and passion.
A great way to combat this internal heat is to nourish our bodies with cooling + calm practices. This sun-tea blend is perfect for both summer season and grounding out ALL year round! 
ORGANIC//WILD: ●Rosa sp. (wild rose) ●Hibiscus sabdariffa (hibiscus) flower ●Chamomilla recutita (chamomile) flower ●Calendula officinalis (calendula) flower ●Chamaenerion angustifolium (fireweed) flower + leaf ●Trifolium pratense (red clover) flower ●Sambucus nigra (blue elder) flower ●Melissa officinialis (lemon balm) leaf ●Mentha spicata (spearmint) leaf ●Stevia rebaudiana (stevia) leaf
RITUAL: Steep 1-2 Tbsp. in 12oz. warm water. Steep in sun for the full day. Strain and sweeten with honey as desired. Caffeine free.

PACKAGING: Our teas are blended, packaged and sealed on the same day. We maintain the freshest quality of dried herbs by blending in small batches. Our kraft pouches are sealed for freshness but also have a resealable zipper to keep the quality after being opened.
2 oz. recyclable kraft paper pouch
🌿♡🌿